pro clima presents projects, products and a guiding principle
How does the selection of construction materials and the professional handling of these materials influence the construction of healthy buildings to live in? This is just one of the questions that MOLL pro clima is considering at BAU 2019. The overall issue of healthier buildings is the focus of the trade fair presence of pro clima, the specialist in windtightness and airtightness. At the heart of Stand 200 in Hall B6, we will be presenting our joint projects with the Sentinel Haus Institut – such as the current research project "My Future Office", which deals with sustainable, healthier office buildings. However, a significant amount of space is also dedicated to both new and tried-and-tested products that pro clima has developed with the issue of healthy living environments very much in the foreground.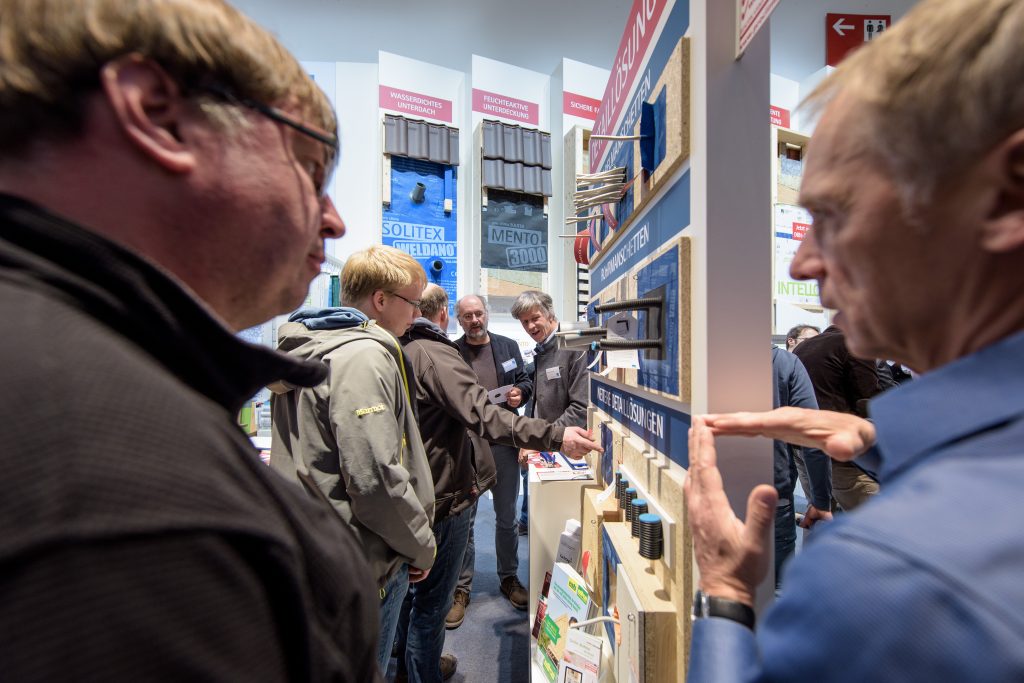 As a manufacturer, we are presenting our new products AEROSANA VISCONN FIBRE and AEROSANA FLEECE – a fibre-reinforced brush-on sealant and a fleece for covering wider cracks and joints have been added to the system of products associated with the AEROSANA VISCONN sprayable airtightness film. In addition, there is SOLITEX ADHERO, a full-surface self-adhesive airtightness membrane that is also suitable for use as weather protection.
The seven items in the pro clima core system have a special place among our familiar products: According to the mini-max principle, two membranes, three adhesive agents, one nail sealing tape and one primer are sufficient to carry out almost any possible construction task associated with the sealing of building envelopes. If requirements are more individual, pro clima's complete range is available too. Our technical experts at the trade fair stand can explain how the mini-max principle works and what the benefits are for installation technicians. Visitors can also ask our experts their own questions.
Under the banner of "pro clima Construction Meeting", specialist advice events will be held every day at the trade fair stand on the following issues:
Flat roofs: safe in accordance with standards and laws
Healthier buildings: what needs to be taken into account
Window joints: sealing with permanently reliable performance and in conformity with RAL
Roof refurbishment from the outside: identifying practical solutions
Underlay / roof lining: adhering to the ZVDH regulations in a simple manner
Winter building sites: keeping moisture protection under control