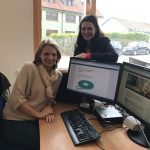 New products, building physics, interesting interviews and more:
that is the content of the pro clima international blog. If you have
any questions please contact us: presse@proclima.de
Meet Julia & Heide
Julia Metzger and Heide Gentner from pro clima Germany are organizing this blog and are responsible for the content.
Julia used to live and work in the U.S. for six years and is currently working on her Bachelor in Business Administration at a U.S. university. She is the Customer Service Manager for pro clima Germany and has been with the company since June 2011.
Heide is Half-Japanese and studied Political Science and Japanese Studies in Germany and Japan. She used to work as an editorial journalist and has been the Public Relations Manager for pro clima Germany since December 2011.